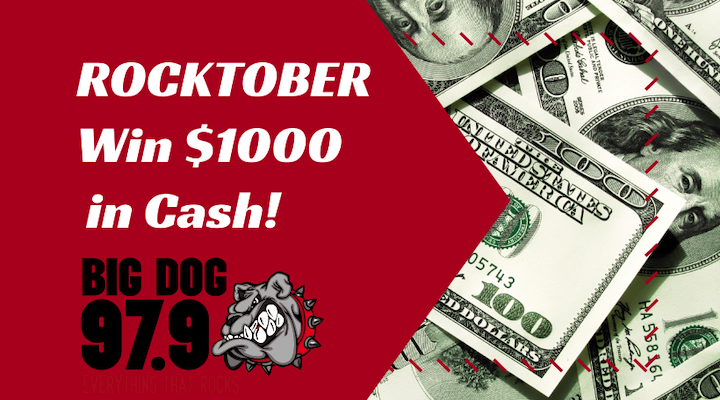 Rocktober 2023
Listen at: 8am, 9am, 11am, 1pm, 3pm, 5pm
Grand Prize:
$1000 Winner will be announced Wednesday Nov 1 st at 8:10am
Qualifying Prize:
Limited Edition Rocktober T-shirt
***You may qualify once per day but can only get one T-shirt***
Listen for the Rocktober Double Shots from that days featured artist at 8am, 9am, 11am, 1pm, 3pm,
5pm . Then listen for the Rocktober Winning Word text that hours word to 417-659-9797. One person
per hour will qualify and win a Rocktober T-shirt.
Also you are picking the song of every Double shot. You can vote which song will play at bigdog979.com
or on the Big Dog 97.9 APP. Voting will open at least 15 minutes before the Double Shot plays.
That's right we pick the first one and you pick the second one.
ROCKTOBER LIST 2023
Times: 8am, 9am, 11am, 1pm, 3pm, 5pm
Sunday 10/1 Nirvana
Monday 10/2 Papa Roach
Tuesday 10/3 Guns N Roses
Wednesday 10/4 Red Hot Chili Peppers
Thursday 10/5 Linkin Park
Friday 10/6 Seether
Saturday 10/7 Motley Crue
Sunday 10/8 Pearl Jam
Monday 10/9 Cory Taylor/Stone Sour/Slipknot
Tuesday 10/10 Breaking Benjamin
Wednesday 10/11 Godsmack
Thursday 10/12 AC/DC
Friday 10/13 Five Finger Death Punch
Saturday 10/14 KISS
Sunday 10/15 Bring Me The Horizon
Monday 10/16 Bush
Tuesday 10/17 Green Day
Wednesday 10/18 Three Days Grace
Thursday 10/19 Van Halen
Friday 10/20 Alice In Chains
Saturday 10/21 Nickelback
Sunday 10/22 Theory Of A Deadman
Monday 10/23 Volbeat
Tuesday 10/24 Disturbed
Wednesday 10/25 Pop Evil
Thursday 10/26 Shinedown
Friday 10/27 Metallica
Saturday 10/28 Asking Alexandra
Sunday 10/29 Korn
Monday 10/30 Foo Fighters
Tuesday 10/31 Ozzy / Black Sabbath