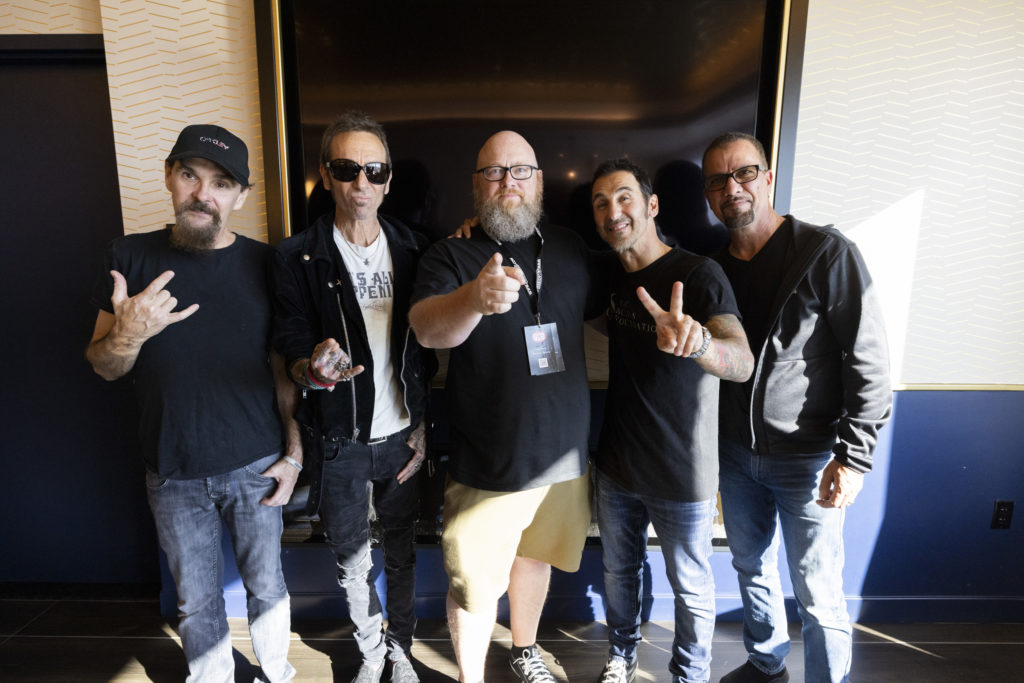 KXDG – 10-3-22 – The Godsmack Listening Party
You may have heard the show live in Las Vegas last week.  We had an amazing time meeting and seeing several bands perform.  But probably the coolest opportunity was getting invited to a listening party for the new Godsmack album "Lighting Up The Sky".  A few days before the event we received an email asking would we be interested.  Of course our reply was a resounding HELL YES!
The day of the event we were asked to "Surrender" our phones.  No outside pictures and video for this.  Then a shuttle took us to their hotel where we were sent up to a suite 50 or so floors up.  Along with a hand full of other radio people, we opened the double doors to this giant window overlooking the Strip.  And the first person to greet us, Tony Rombola, guitarist for the band.  To the right were Robbie Merrill and Shannon Larkin, the bassist and drummer.  And on the right, here comes Sully Erna...  We knew the band would be there, but damn.  We all shuffled in with our jaws dropped.  Took in the view, a few drinks from the bar, and started having conversations with the band.
Eventually we were invited to sit down and listen to some tracks from the new record.  Sully talked about the bands longevity, and was so gracious and thankful for that.  And as continued to speak you could tell he was working his was towards an announcement of sorts.  He talked about how this will probably be the last album that Godsmack ever does together.  He said I'll never say never, but this is probably it.  Even though it was a solemn announcement, he was clearly excited to say that he truly believes that it is the "Best record they've ever recorded."  Sully swears that he's never said that about a Godsmack project, and even dares you to check him on that.  But he really feels that they have actually produced their best work on Lighting Up The Sky.
Everyone set down and we were able to listen to five songs from the upcoming album.  Sully narrated every single track and talked about the writing and recording process for each one.  We started with the new single "Surrender", and were able to hear four more which we cannot name at this time.  One of which was a ballad, and all of them were... Wow!  We really can't wait for you guys to hear them too.
We were extremely thankful to Godsmack for the opportunity.  What an amazing experience.  Check out our photos with the band, and our discussion about the experience on the Chris Purple Hayes and Bobby Show.  And of course look for the new Godsmack album, Lighting Up The Sky, February 2023!